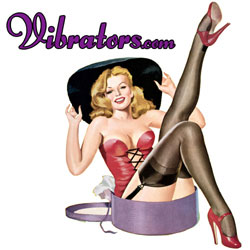 Vibrators.com – Sales Surging in a Sluggish Economy - March 3, 2009
The slow economy has people skipping vacations, avoiding restaurants, and driving past shopping malls. So where are people having fun these days? Apparently, in their bedrooms! Sales at
Vibrators.com
, one of the nation's leading retailers of adult toys, are booming.
The site saw a 277% increase in sales from February 2008 to 2009. That type of sales increase suggests a bad economy may be good for romance-related businesses. The data from
Vibrators.com
seem to also suggest that as the economy has become worse, sales have gotten better. In August 2008, when everything seemed fine, the sales increase was only 32% over August 2007. September sales were 217% better than last year's and October's grew 256%. The sales increase peaked in December with a 399% rise. Could the worst part of the recession be behind us?
Why are vibrators selling so well? Tom Nardone, the President of
Vibrators.com
has this to say. "Vibrators are an inexpensive thrill. The average
Vibrators.com
sale is about forty dollars. This is similar to the average restaurant tab. Unlike a prepared meal, the benefit of which is fleeting, a vibrator delivers concrete, lasting results."
Not everything is perfect however. Spending habits have caused the amount each customer spends to shrink. Revenue per order has decreased about 7% from last year, something that has never happened before. People are buying toys that are less expensive and more customers are taking advantage of
Vibrators.com's free shipping offer
.
The combination of more sales and smaller orders makes for a happy warehouse. The number of packages shipped in February is up 305%. "It is nice to be busy. Our warehouse staff is just like everyone else. In these troubled times we are happy to be productive and in high demand" said Nardone.
Do you want to discuss
Vibrators.com
and our recent sales success? So do we. Contact
Tom Nardone
of PriveCo Inc. at 1-800-809-0610.