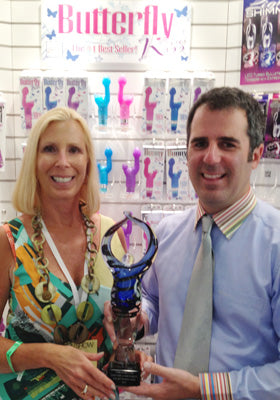 Vibrator of the Year 2012 Announced - December 11, 2012
Photo: Tom Nardone of Vibrators.com presents Susan Colvin of California Exotic Novelties a lifetime achievement award.
Vibrators.com analyzes hundreds of sex toys every year. We do this so that our customers can quickly and easily choose a great toy. We know that professional people don't have time to sort through hundreds and hundreds of sex toys. They want good advice to steer them to a great sex toy. As we test vibrators we compile all of the data and then at the end of the year we name a "Vibrator of the Year." We even have a website devoted to the award:
VibratorOfTheYear.com
.
We also know that some of the best vibrators on the market are not new; they have been available for years, sometimes even decades. For this reason we also offer a "Lifetime Achievement" award to a vibrator that has made a difference in the lives of millions of women.
This year's award winners are:
The Rock Box is the 2012 Vibrator of the Year. The Rock Box set a new record for vibrator strength. We know because ever since 2008 we have been using vibration measurment equipment to quantify the power of the vibrators we sell. The Rock Box has reset our expectations about how incredibly powerful a sex toy can be and at $119.99 if not out of reach for our customers. Unfortunately, we have sold the entire allotment of Rock Boxes and a new production run isn't scheduled until summer of 2013.
The Butterfly Kiss Vibrator Received The Lifetime Achievement Award.

We've been selling the Butterfly Kiss since 1999 and since that time millions of women have used it with great results. One recent customer review stated, "I spent $13 on this vibrator. I've had at least 100 orgasms with it, and it's still going strong. Worth it? I say yes." Needless to say, we awarded the Butterfly Kiss and its designers a trophy.
About Vibrators.com: Vibrators.com helps you find the perfect vibrator for you, in a private, safe, and professional environment.

Tom Nardone, the founder and President of Vibrators.com is available for questions, comments or conversations at 1-800-809-0610.