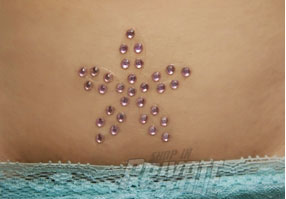 Vajazzling has arrived at ShopInPrivate.com - The World's Most Private Store - June 24, 2010
Vajazzling is the latest fad with young women
, but what is it? Is Vajazzling the name of a feminist jazz ensemble? Or a modern replacement for Jazzercise? No, no. Vajazzling is the process of getting your vagina bedazzled. Actually, not your actual vagina, but your pubic area. First you remove all of your pubic hair; then you apply pretty gemstones. The crystals form all kinds of shapes, like hearts, stars or biohazard symbols flowers. Vajazzling can cost upwards of $50 at a salon, which seems expensive and incredibly embarrassing.
ShopInPrivate.com's Vajazzling Crystals are much cheaper. With ShopInPrivate.com's Vajazzling Crystals, you can vajazzle at home up to 12 times, for under $5 total. The Vajazzling Gemstones are easy to use and skin-safe. Just shave or wax as you normally would, then place the stones as you wish.
Enjoy the newest trend in body jewelry with the Vajazzling Gemstones. Instead of going to a salon for an awkward, expensive treatment, you can vajazzle at home. You won't have to spend any time naked in front of a stranger, and you'll end up pretty, sparkly and sexy.
ShopInPrivate.com's mission is to save customers from embarrassment by offering proven solutions to embarrassing problems in a secure, private environment. ShopInPrivate.com sells anything that would be embarrassing to buy in the store or pharmacy. If you are looking for a private item or you have an embarrassing condition that needs attention, you can shop in private at ShopInPrivate.com. The purchase will be easy, delivery will be fast, and we hold your personal information in the strictest of confidence.
Tom Nardone the President of
ShopInPrivate.com
is available for questions, comments or conversations at 1-800-809-0610.