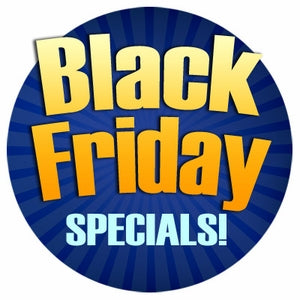 ShopInPrivate.com's Strangest Black Friday Deals
ShopInPrivate.com, the World's Most Private Store, presents our annual World's Strangest Cyber Monday Sale. If you're looking for the best prices on weird gifts, or maybe just the best sale on something interesting to buy for yourself, ShopInPrivate.com is the right place to go. You see, we sell items that are embarrassing to buy. Products that solve personal issues and embarrassing conditions are our specialty. Here's a roundup of some of our strangest products.
Fifty Shades of Chicken
- A recipe book for those who like their chicken bound, gagged, tethered and pounded tender. If the lady in your life loved Fifty Shades of Grey, she'll swoon over these sinfully savory recipes. Plus, she'll have no idea what you're trying to say with this book. Are you hungry? Do you want to try S&M? Let her figure that one out.
Bootiful Butt Enhancement Cream
- I know it seems counterintuitive, but when a woman tells you she thinks her butt should be bigger, the last thing you should do is agree with her. Scratch that; actually, the last thing you should do is buy her Bootiful Cream.
Cleancut Pubic Hair Shaver
- The Cleancut Pubic Hair Shaver would be a great gift for anyone on your list: your daughter, your grandfather, your landlord, your hairstylist. Oh, wait: none of that is true.
Hot Rawks Pills
- Got a foodie in your life who will only eat organic foods? Hot Rawks is the aphrodisiac for them. Made from raw organic superfoods, Hot Rawks will only offend your uppity friends with its spelling.
Gallon of Lube
- The Gallon of Lube should last you at least a week, at your current rate of masturbation. Great gift for yourself, or for your good friend who just broke up with his girlfriend of seven years.
Subtle Butt
- The gift that says, "You fart a lot. Like, a lot a lot. A freakish, horrible amount of stank is always coming from your butt. Happy Holidays!"
The Electric Back Shaver
- Give this to your husband, and you'll never have to shave his back again. Score!
Forever Yours Vibrator
- This is the perfect gift for the woman you can't commit to. "I won't be yours forever, baby, but this vibrator will always be there for you."
Lelo Luna Ben-Wa Balls
- "I've been thinking about the perfect gift for you for a long time, to show you just how precious you are, and just how much you mean to me. And I finally found it ... here, have these vaginal tightening spheres."
Pheromone Spray for Men
/
Pheromone Spray for Women
- Spritz yourself with pheromone cologne before you leave the house this holiday season, and revel in at least three times the orgies you usually have on Christmas. Okay, maybe it doesn't work that great ... but we bet Sally from accounting will finally talk to you at the work Christmas party.
About ShopInPrivate.com
ShopInPrivate.com is the world's most private store. We sell anything that would be embarrassing to buy in person. If you have an embarrassing condition that needs attention, you can shop in private for a cure at ShopInPrivate.com. The purchase will be easy, delivery will be fast, and we hold your personal information in the strictest of confidence.
PriveCo Inc. is based in Troy, Michigan.
Call us at 1-800-809-0610 Monday-Friday 9:00 AM - 5:00 PM.