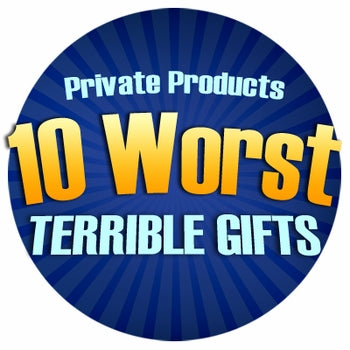 Top 10 Worst Xmas Gifts of 2013
Each year ShopInPrivate.com publishes a roundup of unique and bizarre products that would make utterly horrible Christmas gifts. ShopInPrivate.com sells weird and often hilarious items, which can be a delight to shop for. After perusing the site for a few minutes, it is not uncommon for customers to experience nagging thoughts such as, "How weird would it be to buy my wife an arousal pill for Christmas?" or "Will my friends think this vulva puppet is as hilarious as I do?" We have the short answers for you: Very weird, and NO.
ShopInPrivate.com is an awesome place to shop for solutions to embarrassing problems, in an ultra-private environment. ShopInPrivate.com never emails you after the sale, and we never add you to any lists. We ship and bill just as discreetly. We offer some products that make good Christmas gifts (like electric shavers and high-end massagers) but if you give the people on your list any of the following items, you'll be fired from Xmas immediately.
And now, the
Worst Christmas Gifts of 2013:
About ShopInPrivate.com
ShopInPrivate.com is the world's most private store. We sell anything that would be embarrassing to buy in person. If you have an embarrassing condition that needs attention, you can shop in private for a cure at ShopInPrivate.com. The purchase will be easy, delivery will be fast, and we hold your personal information in the strictest of confidence.
PriveCo Inc. is based in Troy, Michigan.
Call us at 1-800-809-0610 Monday-Friday 9:00 AM - 5:00 PM.