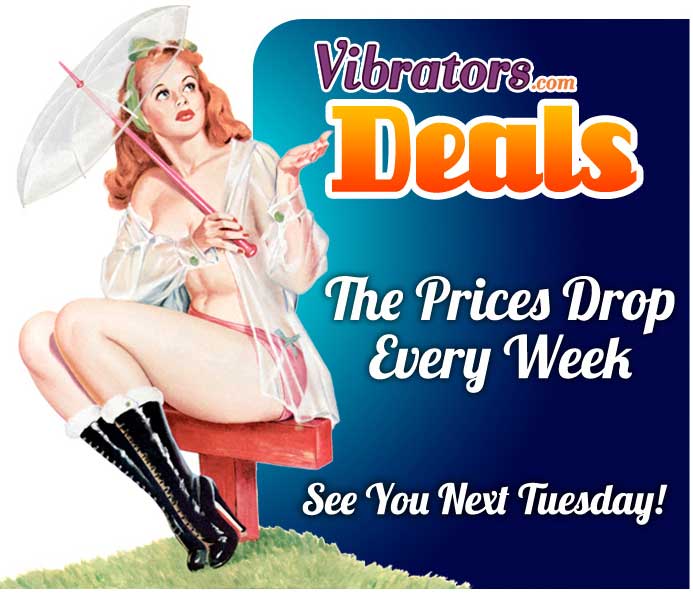 The Prices Keep Dropping at Vibrators.com/Deals - Feb. 14th, 2012
Sites like LivingSocial and Groupon are offering millions of shoppers great deals, but a quick look at what they are selling can induce uncontrollable yawning. How many bad haircuts and mediocre shawarma sandwiches are enough? These services are no longer satisfying their customers and the public is starting to figure it out.
One alternative is a new place to get unbeatable deals on adult toys.
Vibrators.com/Deals
is a webpage where bargain shoppers can get satisfaction as they watch the prices drop every week. Every Tuesday the prices on Vibrators.com/Deals get lower and lower until the items sell. There is no limit to how low the price can drop.
The products at Vibrators.com/Deals include popular vibrators of all types, including rabbits, slimlines, oscillators, and realistic types. For men, Vibrators.com/Deals offers products like love dolls and portable devices can be purchased far below their retail prices. On their first day, products start at 20% below their retail price. The following week their price drops to 30% off, then 40%, 50%, 60%, 70%, and can even get to 80% or 90% off. The prices keep dropping until the inventory is exhausted.
Where do these items come from? They are all first-quality items that have been sitting on warehouse shelves too long. Perhaps they were an unpopular shade of blue or Vibrators.com bought three cases instead of one by mistake. For whatever reason, they have been overlooked until now.
When should customers buy? "I'm not sure." Says Tom Nardone, President of Vibrators.com "I suppose you should buy the items when they look like a great deal, otherwise they may sell out." Once it's sold out, the opportunity is lost. Don't worry though, new products are introduced every week.
Those who follow Vibrators.com on Facebook will be alerted when the next price drop occurs every Tuesday. When that happens, shoppers can browse over to
Vibrators.com/Deals
to check out the savings.
About
Vibrators.com
:
Vibrators.com, a member of the PriveCo Inc. family, is known as one of the largest and most selective online retailers of sex toys. Unlike other sites that carry a selection of thousands of random products, Vibrators.com tests every toy for vibration level, sound output, ease of use and construction quality. Then they choose only the best of the best. The company does not sell anything that doesn't meet its exacting standards, and bulk purchases assure that every price is fair.
Vibrators.com is part of
PriveCo Inc.
, the world's most private company. As a PriveCo store, Vibrators.com uses extreme discretion during ordering and shipping to assure the privacy of its customers.
For more information, visit Vibrators.com/Deals or call 1-800-809-0610.