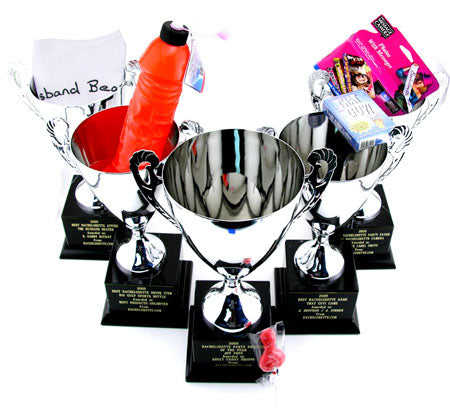 The Bachelorette Party Awards - 2005 Winners
To celebrate the success of the bachelorette party season, the Internet's largest retailer of bachelorette merchandise,
Bachelorette.com
, is awarding the best products based on sales and customer feedback. The manufacturers of these bestselling items receive trophies commending them for their top-quality innovations.
The first award is given to the best piece of
bachelorette party attire
of 2005. The Husband Beater tank top is our choice. A Bachelorette.com exclusive, this white tank top with the words "Husband Beater" printed on it, is a gift that can be worn beyond the bachelorette party. Brides-to-be appreciate the humor and versatility of this product, and sales have reflected the clamor.
In the category of best
bachelorette party game, the That Guy! Game takes the prize. Invented by a group of comedians, the object of this game is to find men at the bar that fit the descriptions listed on the cards. The bachelorette will have to identify Fake Tan Guy, Wearing More Jewelry Than You Guy, and Sports Jersey Guy. This game keeps guests entertained and put a bachelorette spin on any night at the bar.


The
Big Gulp Drink Bottle
wins the award for best
bachelorette party drink item
. This 16-ounce slurper stands on its own, complete with a removable straw and cap. The easy-to-fill design makes this bottle better than older, messier models. The Big Gulp Drink Bottle is the first bachelorette party item that allows party planners to chose their favorite color. Available in red, blue, and purple, the Big Gulp Dicky Drink Bottle is a hot way to sip a cool drink.
How will you record all of this bachelorette fun? Capture the memories with the Bachelorette Party Camera, winner of the Best
bachelorette party favor
award. The Bachelorette Party Camera is not an ordinary disposable camera: every photo taken of the bachelorette party will have a special caption printed along the bottom, including "Girls Just Want To Have Fun," and "Last Night Of Freedom." With a flash and 27 exposures, the Bachelorette Party Camera is a complete and creative party favor.
The last award goes to a new product introduced on Bachelorette.com. The Joypop lollipop is being called the Overall
Best Bachelorette Party Product
of 2005. The Joypop is the first lollipop to be sold on Bachelorette.com for less than one dollar, and when customers order in bulk, this sweet sucker is priced at less than 99 cents. Flavors include Passion Fruit and Strawberry.
"At
Bachelorette.com
, we try to find the best of the best and it feels great to reward the people responsible for these products with a special honor," said the company's President Tom Nardone. Nardone is available for questions, comments or conversations at 1-800-809-0610.