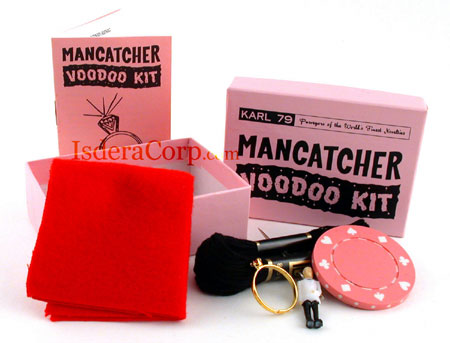 The 10 Worst Valentines Day Gifts - February 1, 2006
With Valentine's Day ominously approaching, lovers are scrambling to purchase boxes of chocolates and bouquets of roses. For those still shopping, the retail team at
ShopInPrivate.com
has put together a list of horrible Valentine's Day gifts. ShopInPrivate.com aims to prevent embarrassment, including the type of discomfort one might experience when giving or receiving the following items.
The Worst Valentine's Day Gifts For Men
The Razorba Back Shaver
-Although Valentine's Day may seem like a good time to address the abundance of your man's back hair, the holiday does fall in February and his fur will keep him warm. Save this gift for the Fourth of July.
Premature Ejaculation Cream
-This is not the occasion to tell him he doesn't rise to the occasion.
Fart Filters
-There's really no polite way to introduce this product into your man's life. You might consider air freshener or a change in diet.
Penis Pump
-Medieval torture devices do not make appropriate presents.
Nose Hair Trimmers
-Save the money and give him a good trim in his sleep, or encourage him to grow a mustache, which may mask the problem.
The Worst Valentine's Day Gifts For Women
Weight Loss Pills
-Most females don't take kindly to the suggestion that they may need to shed a few pounds. If you give her weight loss pills as a Valentine's Day gift, the extra weight she loses might be you.
PMS Relief Pills
-Again, another medication that's a better gift when slipped into the medicine cabinet without her noticing.
Pregnancy Test
-Nothing says, "I love you," quite like, "Oops."
Hair Removal Wax
-You might think that she's a little hairy, but unless she looks like a primate, chances are you have more hair than she does. Maybe you should buy yourself some hair removal wax?
Man Catcher Voodoo Kit
-Is she single? Magic will not help her catch a man. A better hairstyle and a new wardrobe might. This gift is child's play.
ShopInPrivate.com is the perfect place to find an ideal Valentine's Day present. ShopInPrivate.com has become the Internet customer's personal shopper with the recent additions of webpages detailing how to choose romantic gifts for your significant other.
"Men like gifts that are more physical in nature," said President of ShopInPrivate.com Tom Nardone. "Think about massage products and things that feel good."
Other
great valentine gifts for men
include sexual games to appeal to his inner-competitor, bedroom books to cater to his intellect, and gift assortments for his curious side.
Looking for
a great valentine gift for a woman
? ShopInPrivate.com recommends
Kama Sutra gift drums
, the
Emerita Joy Box
, and several
sensual board games
. According to Nardone, women like products that show that her partner cares about her.
He also added, "If you think your partner might want to try a
vibrator
, she does."
ShopInPrivate.com offers all of these products and the ability to have them sent to your door in a discreet manner. Valentine's Day shopping couldn't be easier. Don't wait another minute to select the best gift for your lover.
Tom Nardone of ShopInPrivate.com is available for questions, comments or conversations at 1-800-809-0610.