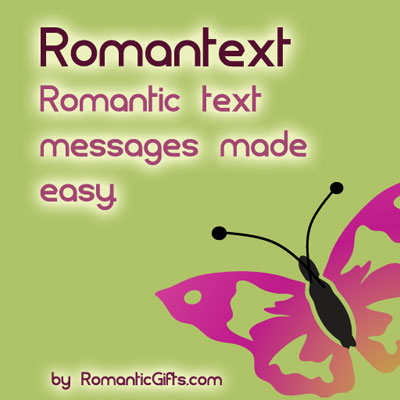 Text Your Lover with the Romantext iPhone App - December 22, 2009
RomanticGifts.com
presents RomanText, a free iPhone application that supplies you with romantic texts that fit any sensual situation.
RomanText makes it easy to flirt with the beauty you met at last night's party, or renew the romance with your partner of 20 years. Simply enter your sweetheart's phone number and pick from a wide variety of romantic texts. Choose from love texts, flirt texts, missing you texts, apology texts and many more. Select your favorite text and have it sent straight to your loved one's cell phone. Your recipient will love the romantic gesture and you won't be clumsily fumbling with your thumbs.
RomanText is a great way to spark romance and keep it alive, but not everyone has an iPhone. Everyone else can find great romantic text ideas with a visit
Romantext.com
. RomanText.com is run by RomanticGifts.com, home of the best romantic gifts on the Web.
RomanticGifts.com is a division of PriveCo. Tom Nardone, the President of PriveCo, The World's Most Private Company, is available for questions, comments or conversations at 1-800-809-0610.