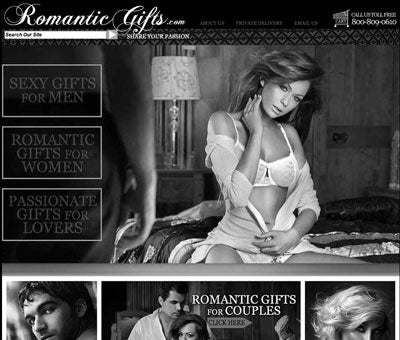 RomanticGifts.com Announces New "50 Shades of Grey" Category - July 26, 2012
Fifty Shades of Grey and its sequels have become a bestselling worldwide phenomenon practically overnight, and it's no question why. They feature incredibly erotic sex scenes, sensual language, and characters who have worked their way into the fantasies of countless women. A book that is this arousing for this many women, should be featured prominently at
RomanticGifts.com
. After all, RomanticGifts specializes in the most arousing and sensual gifts, and the Fifty Shades books are the perfect gift for your lover or self to really get the erotic imagination going.
But that's not all, RomanticGifts.com now features a
Fifty Shades of Grey category
! RomanticGifts.com sells the entire trilogy at a price that is even lower than Amazon.com. Along with the books, is a selection of products mentioned in the pages of the trilogy. This category makes it easier than ever for you and your lover to simulate the sexual encounters of Anastasia Steele and Christian Grey. The people at RomanticGifts have picked only products that they are sure Fifty Shades fans will love and be curious to try. The books have done a great deal to lessen the taboo on BDSM, kinky play, and similar subjects in our culture; and if you want to follow that lead and lessen the taboo in your relationship, RomanticGifts.com makes it easy.
Of course, a lot of these products are very private and personally embarrassing. That's why RomanticGifts.com is the perfect place to buy them, because they specialize in your privacy and ship all items discreetly in plain brown boxes that only say they are from "PriveCo." No emails are sent to the customer, and your personal information will never be shared with anyone. Customers really enjoy the privacy that
RomanticGifts.com
offers.