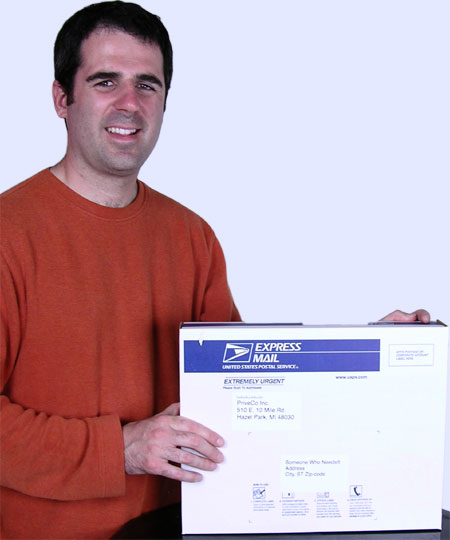 PriveCo's Express Delivery Policy
Express shipping is the fastest service we have available. It is also one of the most reasonably priced high-speed shipping service available. PriveCo offers Express shipping to anyone in the United States including Alaska and Hawaii. Your Express package can be delivered to any home, business or P.O. Box.
When Is our Express service considered overnight delivery?
Your Express Package will be shipped using Express Mail (a service of the US Postal Service). Your postman will deliver your package especially quickly if you are familiar with the schedule. An especially important factor to be aware of is the cut-off time. The cut-off marks the end of the period at which packages will arrive the next day.
Our cut-off time for Express Mail is 3 PM Eastern Standard Time. This means that orders placed before 3:00 PM EST will be packaged and waiting for a truck that arrives at 4:00 PM. Most of these packages will reach their destination before 5:00 PM (local time) the next business day. Some of the packages will even be delivered before 3 PM the next day. Read the following for some exceptions.
Some warnings:
Orders placed after 3:00 PM EST won't be finished in time to make it on the truck. These packages will remain in our warehouse until the following day at 3:00 PM. Unfortunately this means that these packages can take as long as 48 hours to reach urban destinations and 72 hours to reach rural ones.
Rural locations will get their packages quickly using Express Delivery. Unfortunately this may not be overnight. Express Delivery will deliver these packages in the fastest manner possible, usually in two days.
The Express truck comes to pick up from us every weekday. We do not ship packages on weekends. Express orders are delivered on Monday-Saturday. Express orders placed after 3 PM EST on Friday will be shipped on Monday and will arrive Tuesday or Wednesday.
Express orders placed between Thursday at 3 PM and Friday at 3 PM usually arrive on Monday. Many postal service stations work an abbreviated shift on Saturdays, so your package doesn't travel the entire distance.