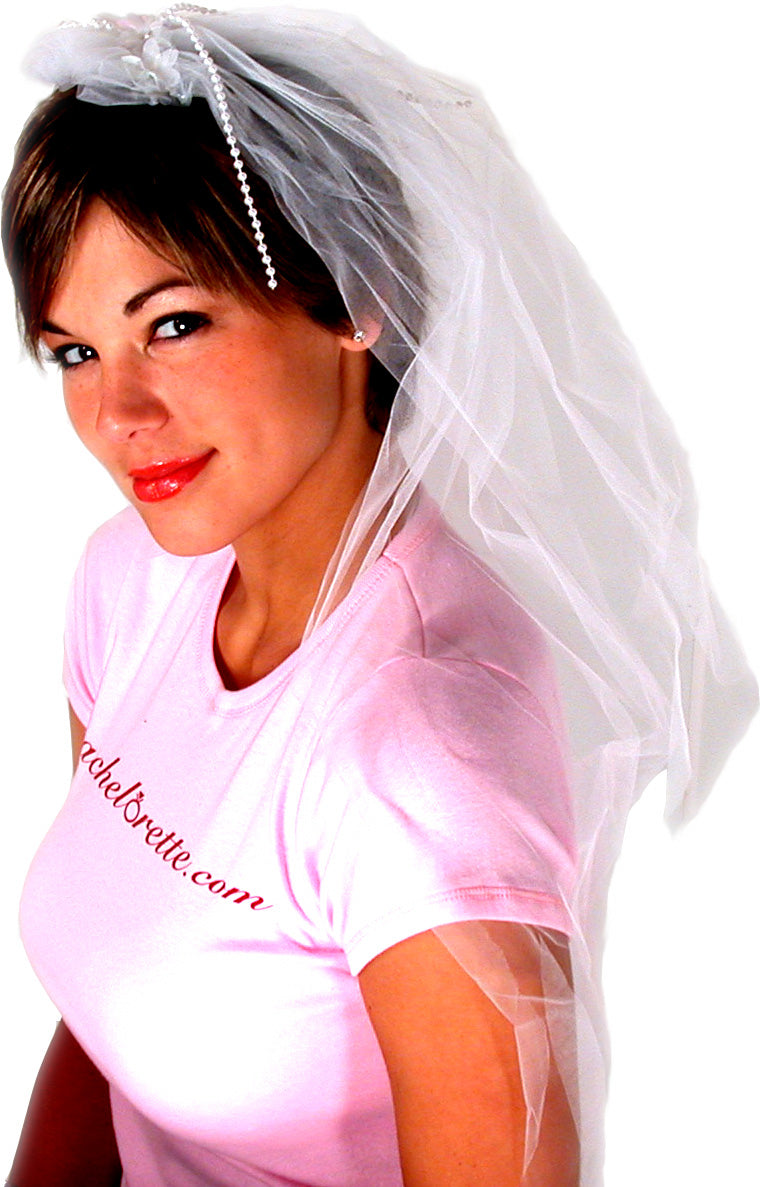 Over 25,000 Bachelorette Parties - March 27th, 2006
Year after year, bachelorette parties gain popularity amongst brides-to-be, and Bachelorette.com is responsible for the success of such gatherings. Bachelorette.com has supplied merchandise for over 25,000 parties, making life easier for thousands of Maids of Honor.
Planning such a momentous event can be intimidating, but the team at Bachelorette.com ensures that each party is memorable and a ton of fun. During her girl's night out, the bride-to-be will look perfect in the apparel items featured on the website. Many customers purchase bachelorette headgear, like the
Bachelorette Party Veil
or
Bachelorette Party Tiara
, so the bride-to-be can party in style. Bachelorette.com also offers a unique
Flashing Bride-To-Be Sash
to attract the attention of all of her guests, and even some wandering eyes at the bar.
Many Maids of Honor worry about keeping the girls entertained. Bachelorette.com also stocks party games that will keep everyone laughing and drinking. The most popular game sold on the website is
Pin the Macho on the Man
, a sexy take on Pin the Tail on the Donkey. Another game highlighted on Bachelorette.com is the
Mr. Wrong Game
, a "must-have" at the bar invented by comedians. Guests are encouraged to find "that guy," whether it is "Sweaty Dancer Guy" or "Hawaiian Shirt Guy."
Bachelorette parties are held at a variety of venues, from houses to the bar, and sometimes both. Bachelorette.com offers the best party decorations for any locations. Customers scramble to purchase Naughty Toilet Paper and
Rainbow Penis Balloons
to amplify the celebration. The bachelorette.com website is also a great source for free game ideas that you can play with household items. This is important because many bachelorette parties are planned on short notice. Bachelorette.com wants to make sure that planning and attending a bachelorette party is lots of fun.
"Ten years ago, this industry didn't even exist," said Bachelorette.com President Tom Nardone. "Now, almost everyone is having a bachelorette party. We work hard every day to make sure that planning a bachelorette party is as much fun as attending one."
Bachelorette.com
prides itself on selling items that customers are unable to find in any store. Additionally, shoppers can browse the website in the privacy and convenience of their own homes, making party planning enjoyable and not burdensome. Humorous product descriptions help make browsing fun as well.
Many Maids of Honor have already learned the secrets to planning a great party. After shipping 25,000 orders over the last 6 years, Bachelorette.com has proven itself as the go-to place for all bachelorette party needs.
Nardone is available for questions, comments or conversations at 1-800-809-0610.