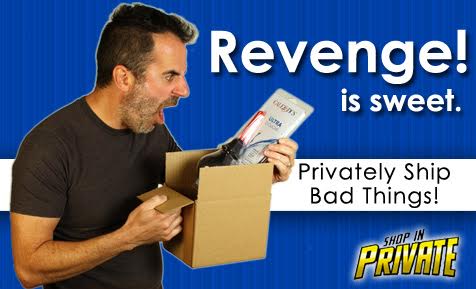 Oct. 25, 2016 - Do You Want Revenge At All Costs? How About $4.99? ShopInPrivate.com Unveils New Revenge Category
Since 1998, ShopInPrivate.com has been the number one place on the internet to purchase embarrassing items discreetly and privately. ShopInPrivate sells all manner of products you might be embarrassed to be seen buying in public, from sex toys and penis pumps to enemas and anal bleach. Our customers value the ability to shop privately for these items, and the security of knowing that their personal information will never be shared with any third-party companies or used for spam purposes. ShopInPrivate also prides itself on the discretion with which we package customers' orders: everything comes in a plain brown box that simply says "PriveCo" on the label.
Today, ShopInPrivate is proud to unveil a brand new category of products, which will allow customers to benefit from these stringent privacy policies in a brand new way: Revenge. Revenge products aren't intended to be ordered for yourself, but rather, to be sent to someone who's been a real jerk to you and against whom you'd like to get a little payback. "People have been secretly using ShopInPrivate.com to send vengeful items for years; we finally decided to make it easier," says Tom Nardone, the founder and President of ShopInPrivate.com.
ShopInPrivate's Revenge category contains a carefully cultivated selection of our most embarrassing products, and products that you would be quite offended to unexpectedly find in your mail. Customers can select any of these products and send them to anyone, anywhere - be it their home, their workplace, or the home of their significant other or family.
Did your ex cheat on you, then leave you for another woman? Now you can send him a penis pump and her a vaginal irrigating douche to tell them what you think of their lascivious ways. Did that sweaty, flatulent jerk of a boss finally fire you? Tell him what you've been wanting to all along by sending a can of antiperspirant and a pack of fart filters. Got someone in your life who's just generally been an ultra douche? Send them one.
Every Revenge product will be sent in a plain brown box like all of our products at ShopInPrivate, but it also comes with our No Papers feature, meaning there will be zero indication anywhere of who ordered and sent the product. You heard that right - the target of your revenge will have no idea it was you who did it. We will never, ever reveal your informatio, unless we are ordered to by a subpoena. Instead of your private information, the recipient will just receive a small business card that reads, 'You've Been Revenged."
To see what kinds of products are available for revenge, head over to
www.shopinprivate.com/revenge.html
.
About ShopInPrivate.com
ShopInPrivate.com is the world's most private store. If you have an embarrassing condition that needs attention, you can shop in private for a cure at ShopInPrivate.com. The purchase will be easy, delivery is quick and discreet, and they hold your personal information in the strictest of confidence.
Tom Nardone, President of ShopInPrivate.com, is available for questions, comments or conversations.