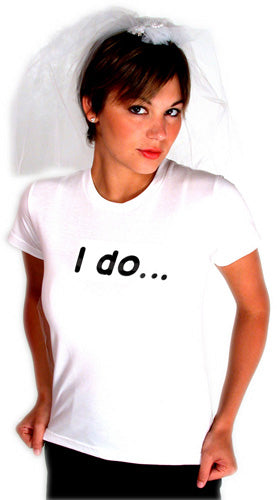 New Bachelorette Party Shirts - May 19th, 2005
Bachelorette.com
is pleased to announce new t-shirt designs for the bachelorette. These shirts highlight the playful, liberated nature of modern brides.
Developed in house, these unique and fun shirts are perfect for the bachelorette. The experts at Bachelorette.com have developed these shirts to encourage fun, flirtatious behavior at the bachelorette party. Not gross, and not too controversial, these shirts are just about right.
These shirts are also priced right. Because our company designed and developed the shirts in-house they are less costly. The modern wedding has become exceedingly expensive.
Bachelorette party merchandise
should be fun, not a burden. Our challenge was creating a t-shirt with a $10 price target and a tank top for $12.
Price is irrelevant if the process isn't fair. We wanted an American made product that is manufactured fairly. We use sweat-shop free garments from American Apparel and a local Detroit artist prints the shirts. These shirts are completely guilt-free.
We are introducing two shirt designs this week:
I Do…
- This playful shirt presents the bachelorette along with the most important words of her life. In the context of a bachelorette party the meaning may change slightly and will certainly have the guys talking.
Husband Beater
- A female version of a "wife beater" tank top is imprinted with a playfully liberated message. The groom had better watch out.
Look for more shirt designs in the near future from Bachelorette.com. Our goal is to offer playful, fun shirts that will fill the needs of any type of bachelorette party.

About Bachelorette.com

Bachelorette.com is the Internet's biggest and best website for
bachelorette party supplies
. Tom Nardone of Isdera Corp. and Bachelorette.com is available for questions, comments or conversations at 1-800-809-0610.