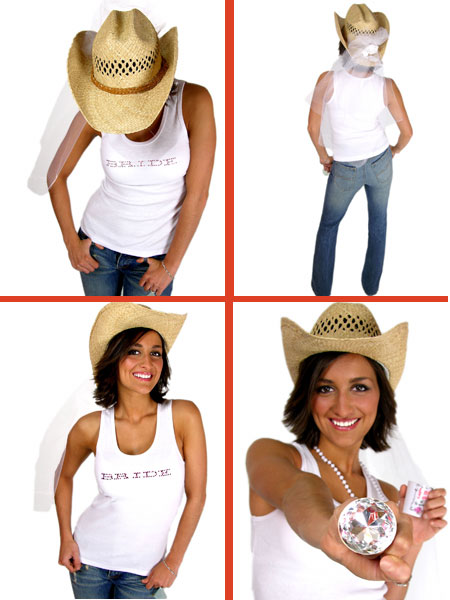 Introducing The Bachelorette Party Cowgirl Hat - January 30, 2006
Here is the latest fashion for bachelorette parties. It is a cowboy hat with a veil and flower attached. We call it
The Bachelorette Party Cowgirl Hat and Veil
and it is new for 2006.
Unlike bridal veils which tend to be tasteful but predictable, bachelorette party attire can be wild and unique. Our veils are adorned with hearts, miniature brides and grooms, and other items. They come in white, pink, red, even black. If fact, Bachelorette.com offers no less than 34 bachelorette party items that you can wear on your head. From veils to tiaras, boppers to hats, they can turn a regular night into a fun festival.
The Bachelorette Party Cowgirl Hat is rather unique. Its design was a collaboration between Bachelorette.com's founder and his Mom. Carol Nardone has been making veils and buttons for Bachelorette.com since 2003. A retired gift shop owner, Carol works from her basement to make high quality bachelorette party items. Carol is also a country music fan. "I wondered if a countrified bachelorette party item might be successful so I asked my son."
"I thought a cowboy hat with a veil was a gret idea. Our business does really well because we reach rural areas where traditional retail stores do not". says Tom Nardone the founder of Bachelorette.com. "This product is our first big hit of 2006".
Look for more new bachelorette party products in the near future from Bachelorette.com. Our goal is to offer everything you want for any type of bachelorette party. They currently offer over 500 items, the largest selection of bachelorette party items anywhere.

About Bachelorette.com
Bachelorette.com is the Internet's biggest and best website for bachelorette party supplies. Tom Nardone of Isdera Corp. and Bachelorette.com is available for questions, comments or conversations at 1-800-809-0610.