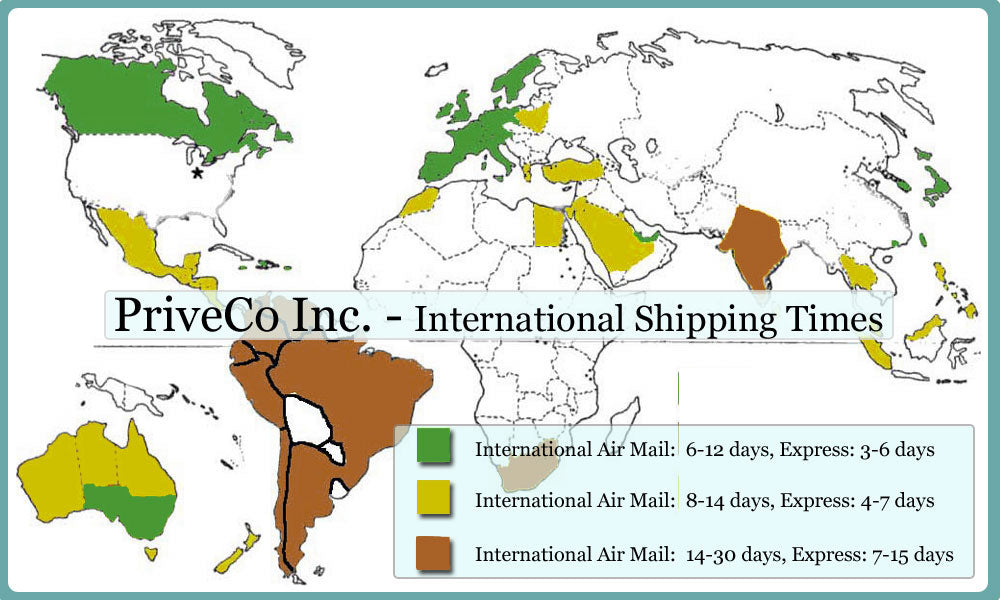 Click on the image above for a larger version
The map above is color coded by country. Our experience with shipping to the countries above allows us to give an estimate of the time required to send a package to you. Some countries have frequent shipping flights and smooth trade relations with the US. Customers from these countries will receive their packages quickly.
Other countries have less frequent shipping flights and may be subjected to more inspections. Shipping times to these countries can be significantly longer.
Some areas of the world have slow postal service. Customers in these countries may be subjected to a long wait.
Our experience has allowed us to color-code different areas. The color coding helps you estimate the shipping time.
International Shipping Prices:
PriveCo is proud to offer the best international shipping prices in our industry. International shipping starts at $6.60 and rises in price with package weight.
International Shipping Method:
We offer two international shipping methods: International Air Mail and Express Mail. The order form also includes other shipping methods. These other methods are available to residents of the United States only (U.S. only). International customers that select a shipping method other than International Air Mail or Express Mail will be charged for and will receive international air mail.
International Express Mail
International Express Mail is the fastest international shipping service we offer. It starts at $20.40 and rises in price with package weight. International Express Mail times are roughly 50% of International Air Mail. Countries in Green on the map receive their parcel in 3-7 days.
Late International Packages
Your International package has embarked on a long journey. After leaving our warehouse it travels 1,000 Km via DHL to a sorting center in New Jersey. From their it enters the International Post. It is carried from New Jersey, USA to your country using Deutsche Post. Once it arrives in your country it is subject to customs inspection and (if necessary) import tax assessment. It is then delivered by your local postal service. Some countries deliver these International shipments in 10 days (urban areas of the UK and Japan) while some take much longer (South America, South Africa, India and even Mexico) average 30 days with many packages taking longer.
If your package has not arrived with 60 days and the products you ordered can be imported to your country we will send a replacement free of charge. Please send us an E-mail to let us know that your package has not arrived after 60 days. Please include your complete shipping address so that we can make sure that the second package arrives safely.