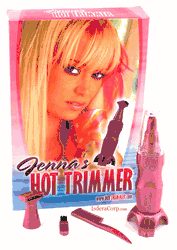 If Honesty Is The Best Policy, Why Are We The Only Retailer Using It? - Sept., 2004
Honesty and a sense of humor are the keys to ShopInPrivate.com's success. Other online drugstores have filled their sites with meaningless jargon and have seen poor financial results. We have done the opposite. We describe the products we sell in the most honest manner possible. Sometimes the results are strange and funny, other times we sacrifice some revenue if the product is lacking. In the end we know people want to Shop In Private with a real person, someone that they can trust.
Customers trust us to cure their most embarrassing personal problems. To develop this level of trust we put the customer, not the manufacturer, first. When we describe a product on our web site it is rare that we use the description provided by the manufacturer. Sometimes the manufacturers make promises that couldn't possibly be true. Other descriptions contain so much jargon that they are meaningless. I prefer to be funny and to-the-point. As an example, here are some of the strangest, most honest product descriptions we have managed to create since I began ShopInPrivate.com six years ago.
Eyebrow Tweezers - One of the first 50 items that we listed when we started in 1998 was a pair of eyebrow tweezers. In stores, they seem to be marketed toward woman. I knew that men needed them just as badly. I decided to be a wise guy and I penned the tag line "Go from one eyebrow to two". "Battle that unibrow and win" I said. Our visitors responded and made it one of our most popular items.
Nose Hair Trimmer Comparison Test - Another early effort was a side-by-side comparison test of nose hair trimmers. As a small business we could afford to be very honest. We liked some and didn't like others and told the truth. We have even had to fend off "cease and desist" letters abut our opinions. This simple page has been a big hit for us.
Jenna's Hot Trimmer - A hair trimmer endorsed by a porn star. It is such a strange product that we decided to provide both the manufacturer's description as well as our own response.
Charcocaps - Selling pills that are meant to keep your intestinal gas from smelling bad was a challenge that I was willing to take.
Penis "Enhancement" Pills - The closest thing you will find to the truth at any web site.
A Tongue Scraper - I used to have bad breath all of the time, but since I began scraping my tongue I only have bad breath once in a while.
A Wooden Back Scratcher - A $1.99 back scratcher that can keep a man busy for hours.
The Flat-D Underwear Fart Filter - Who would have thought that a marine farting in his chemical warfare suit would have given birth to an invention of this magnitude?
The Razorba - Did you know that there is a product on the market that helps you shave your own back? We are one of the only stores to carry it.
Odor Eaters Foot Deodorant - Sometimes I like to rant about a subject that is barely connected to the product listed. Sometimes it is even interesting. This might be one of those times.
Cottonelle Moist Wipes - The manufacturer weakly promised a fresher feeling. I was tired of seeing marketers use the word "fresh". This lack of a meaningful description frustrated me. I took out my creative aggression on this product because I thought it was the worst offender. Our staff helped invent the top 10 rejected slogans for Cottonelle Moist Wipes.
The First Ever Taste Test of Edible Personal Lubricants - The horrendous stomach ache I received from ingesting a large amount of edible personal lubricant was worth the effort.
Our unique combination of honesty and humor make ShopInPrivate.com an interesting and effective place to meet your most embarrassing shopping needs. Over 130,000 people have chosen to ShopInPrivate and many more will do so in the future.
My name is Tom Nardone and not only did I approve this message but I took all morning to write it. I am available for questions, comments or conversations at 1-800-809-0610.