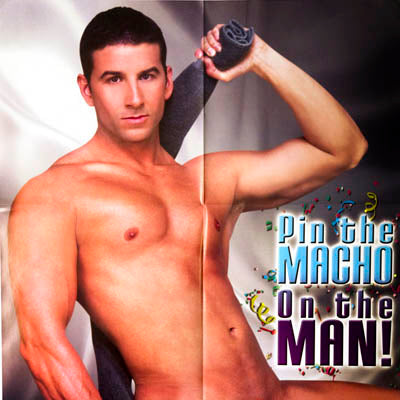 Gay Bachelor Party Supplies - The Latest from Bachelorette.com - March 9, 2012
What makes gay bachelors different from their straight counterparts? Not much. Gay men are just as interested in their careers, love, financial security, self improvement, entertainment, and anything else that helps them have fun and enjoy life.
Now that same-sex marriages are becoming common and legal in more U.S. states, another trend is taking hold – the gay bachelor party. Just because he's marrying a guy doesn't mean that a man doesn't want to enjoy a night of carousing with his buddies before the ceremony. Will there be differences from a straight bachelor party? Of course, but the goal remains the same: party like a rock star!
That's why Bachelorette.com – the web store visited by more bachelorette and bachelor party planners – has introduced its newest section:
Gay Bachelor Party Supplies
. The section is filled with all the necessary and goofy items required to throw a memorable bachelor party with a decidedly gay flair. Visit the new section at
https://www.bachelorette.com/collections/gay-bachelor
.
Start with plates, cups, napkins, plasticware and straws – the basic supplies required to feed a group of hungry men. The designs on these items will let the guests know that this bachelor party has been designed specifically for them. When the drinking gets started, the shot glasses, jello shot molds, beer glasses, beer bong, ice luge and cocktail stirrers are male oriented. And snacking will be even more fun when all the cakes, candies, cookies, suckers, and snack trays are shaped for gay men.
Fun items for the party include a costume, balloons, inflatable dolls, water guns, "pin the tail" type party games, playing cards, ring tosses, drinking games, and a piñata. No one will mistake any of these as belonging at an ordinary party!
Gay men will see so many fun items that they won't wait for someone to get married. They'll start filling the shopping cart for their next regular party. And while they might find one or two of these items in a local store, no shopping mall or regular web store has this wide of a selection of gay-oriented party merchandise.
Because it is a PriveCo Inc. web store, Bachelorette.com adheres to a strict privacy policy for the ordering and shipping of its products. All items are shipped in plain brown boxes from "PriveCo," with credit charges billed by that name as well. No emails are sent to the customer, and personal information is never traded or sold to other companies. Other famous PriveCo web stores include Vibrators.com and ShopInPrivate.com, as well as many others.
To visit this newest product section, browse over to
https://www.bachelorette.com/collections/gay-bachelor
. To learn more about the company, visit PriveCo.com.
PriveCo Inc. is based in Troy, Michigan. Call us at 1-800-809-0610 Monday-Friday 9:00 AM – 5:00 PM.