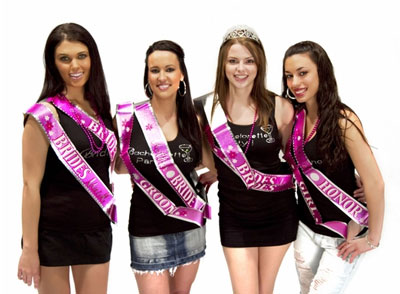 Fresh Bachelorette Party Supplies for 2012 from Bachelorette.com - May 30
Each year, new bachelorette party supplies hit the streets and Bachelorette.com is pleased to introduce them. 2012 seems to be a year of refinement in the bachelorette party business. Products that have been around for a decade or more are being improved based upon customer feedback.
Penis straws that used to be peach-colored are now black and pink
Penis-shaped pinatas now come with a blindfold and whacking stick
You can now buy a kit of sashes for the entire party for less than $10
Prices have dropped on bachelorette party games, penis pasta, and even chocolate candy penises.
2012 is really shaping up to be a great year for bachelorette parties which seem to improve every year. One manufacturer says the number of parties being thrown has increased 400% in the last 3 years. The selection of products is improving as well. Ten years ago approximately 40 products were available. Now there are over 500 items on the market for bachelorette parties.
One reason bachelorette parties are becoming increasingly common is shopping on the Internet. Internet sites serve party planners in ways traditional retailers cannot. Customers can now shop in the privacy of their home or office. Internet retailers are open all the time and their shopping environment is safer than adult or novelty stores. Internet shopping and bachelorette parties make a happy marriage.
Bachelorette.com
is an Internet store that caters specifically to bachelorette parties. Bachelorette.com is the market leader. The site has the best selection of bachelorette party gifts and novelties available anywhere. Over 500 items are offered in categories such as decorations, snacks, utensils, gifts, games, and kits. Bachelorette.com educates customers in ways traditional retailers cannot. The site offers over 50 different game and
bachelorette party ideas
.
Another thing that online retailers do that traditional stores do not, is give away
free bachelorette party downloads.
Directly from the Bachelorette.com site you can download games, invitations, recipes, party ideas, and more. Even people who have never attended a bachelorette party will be able to plan a fun-filled event.
Bachelorette.com is the Internet's biggest and best website for bachelorette parties. Tom Nardone of Bachelorette.com is available for questions, comments or conversations at 1-800-809-0610.