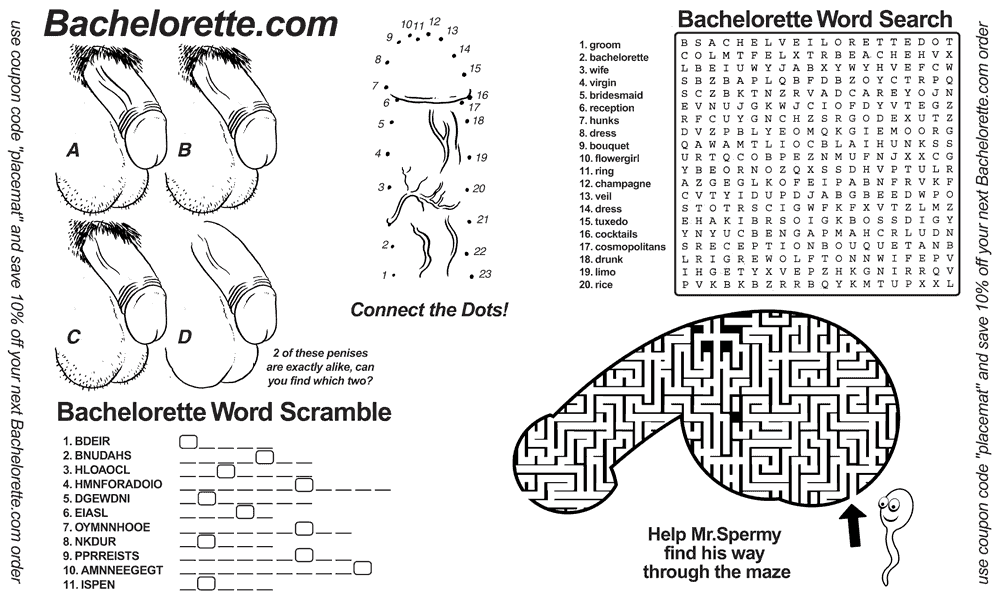 Free Bachelorette Party Placemats at Bachelorette.com - May 11, 2010
The Latest Free Item from Bachelorette.com is a Party Placemat. This Penis Placemat includes loads of games and activities sure to please the bachelorette and her party guests. This free placemat is one-of-a-kind, created by the expert party planners at Bachelorette.com. Whip it out when serving dinner or desserts, or thrust it at guests anytime you desire an amusing activity during the party.
Remember when placemats were fun? As a child, you looked forward to going to sit-down restaurants with your parents. The placemat was covered with cool activities like word finds, mazes and connect-the-dots games. Once you grabbed whatever broken crayons remained, you were off in your own world, fully entertained by your placemat and the adventures within.
Fast forward to the bachelorette party and recreate the same experience, only with a more phallic focus. This Free Bachelorette Party Placemat includes all the same silly activities you remember. Your guests will be rolling on the floor laughing as they help Mr. Spermy through the Penis Maze, and connect the dots to make a ridiculously realistic penis. Grab some crayons and start having fun with the Penis Placemat.
Bachelorette.com has a long history of offering free items for bachelorette party planners. We offer free party invitations, bachelorette party game ideas and free gifts with every order.
Click here to see and download Bachelorette.com's free bachelorette party placemat.
Bachelorette.com is the world's largest bachelorette party store. Bachelorette.com carries everything that makes the perfect party, whether it's a family affair or a wild night out on the town. We've got party games, tiaras, t-shirts, decorations, penis cakes and straws, and tons of party planning advice.
Bachelorette.com is run by PriveCo, the world's most private company. You'll note that free downloads from Bachelorette.com don't require you to provide any personal information because Bachelorette.com does not keep a mailing list and does not use any form of e-mail marketing. It is a truly private place to shop.
PriveCo Inc. is based in Hazel Park, Michigan. Tom Nardone, President of PriveCo is available for questions or conversations at 1-800-809-0610.