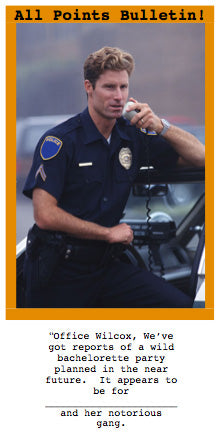 Free Bachelorette Party Invitations - May 10th, 2006
Planning a bachelorette party?
Bachelorette.com
is offering
free bachelorette party invitations
. These downloadable invitations can be printed and sent instantly from your home computer. Bachelorette.com welcomes you to print and send as many as you want. Afterall, your friends will want advanced notice of the upcoming party.
Guests also appreciate the formality of a printed invitation. In this age of casual e-mails few hosts go through the trouble. With these printable invitations however, it is no trouble at all. The response will be fabulous.
People are far more likely to attend a party if you mail an invitation in advance. By downloading these invitations from the Bachelorette.com website you can get the invitations in the mail today. Your friends will receive a real invitation almost as quickly as they would receive an e-mail.
Bachelorette party invitations also let guests know what to expect. Because you will set the theme early, your guests will know to dress their best for the party. The right invitation will also set a festive mood. Your guests will arrive happy, excited and ready to have fun.
Bachelorette.com will also help you entertain the guests once they arrive. A selection of over 500 items makes Bachelorette.com the best place to shop. To sweeten the deal even further each invitation includes a coupon on the back for 10% off any Bachelorette.com order.
"These free invitations are a win-win situation. Customers like them because they are free and can be printed instantly. We also know that people who send out invitations in the mail have a better time at a bachelorette party. That meets our goal of helping people have the most fun possible." says Tom Nardone, the president of Bachelorette.com.
About
Bachelorette.com
Bachelorette.com is the Internet's biggest and best website for bachelorette party supplies. Tom Nardone of
Isdera Corp
is available for questions, comments or conversations at 1-800-809-0610.