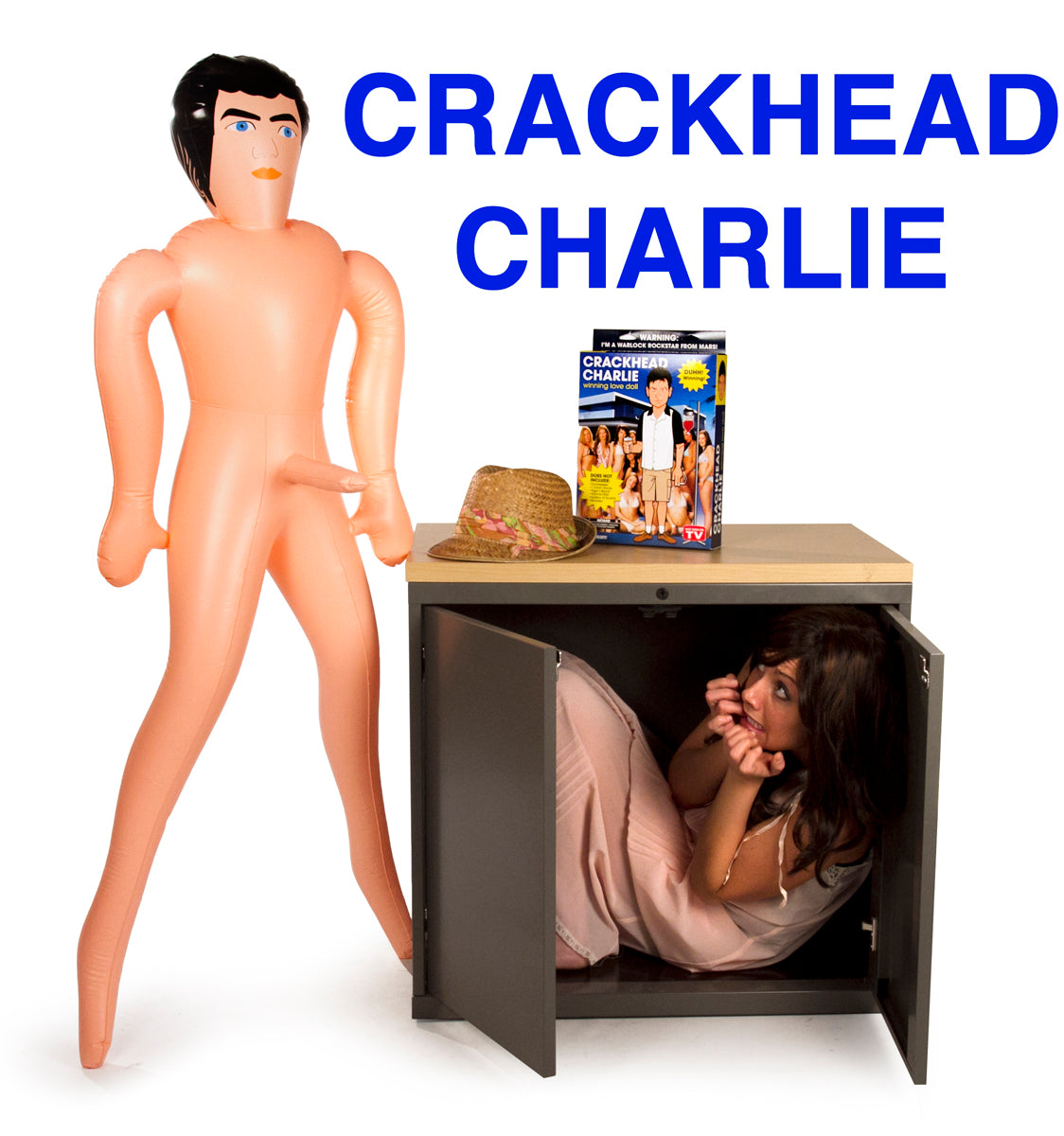 Charlie Sheen's Love Doll A Complete Failure - July 22, 2011
How far has Charlie Sheen's star fallen? The evidence keeps accumulating. In just the past nine months Sheen:
* Hospitalized after trashing his hotel suite and threatening a hooker in New York;
* Got Divorced from the mother of his two sons, his third failed marriage;
* Captured the public's imagination with a few catch phrases and then drove them into the ground himself;
* Lost custody of his children;
* Threw away his "Two and a Half Men" gig, which paid $2 million per episode;
* Damaged his brand with an embarrassingly bad "Torpedo of Truth" live tour;
* Lost one of his goddesses (the really hot one, Bree Olson); and
* Agreed to appear at the August 2011 Gathering of the Juggalos event, so that Insane Clown Posse fans can throw things at him.
And now, for the latest insult, though probably not the last, even the
"Crackhead Charlie"
blow up love doll, sits ignored on an Internet retailer's warehouse upper shelf. No one wants it; no one even wants to know about it.
"Even for a flash in the pan, that was fast," said Tom Nardone, owner of
Bachelorette.com.
"When I ordered the Crackhead Charlie love doll, I knew that it would have a limited shelf life. But now even drunk bachelorettes don't want to party with Charlie."
It's not like Nardone can even repurpose Crackhead Charlie to fit another celebrity. The marketing is so specific that it could never apply to anyone but Sheen.
According to the packaging:
He's high on himself and full of hot air! You don't have to be a slutty porn goddess to party with this radical rockstar from Mars! Just add air and this neurotic nutjob will show you his two and a half personalities, warlock fangs, fire-breathing fists and Adonis DNA. Don't be a foolish little troll, experience the bitchin' drug they call Charlie and let him rock your world!
Does not include:
Goddesses
7 gram rocks
Tiger's blood
Adonis DNA
Gallon of scotch
Smokes
The polyethylene white elephant has a list price of $38.99, but Nardone is now selling it at a 50% discount, $19.49. "I doubt you could give it away now," he said. "We'll probably let it sit in the warehouse for a while longer, just to remind us that fame is fleeting and that no one wants to party with a douchebag."
Bachelorette.com is the world's largest retailer of Bachelorette party merchandise and is operated by PriveCo Inc., "The World's Most Private Company." Since 1998, PriveCo has privately delivered more than 700,000 packages. PriveCo also runs
Vibrators.com
,
Libida.com
,
Over the Hill.com
and many others.
PriveCo
is based in Troy, Michigan.
Call us at 1-800-809-0610 Monday-Friday 9:00 AM – 5:00 PM