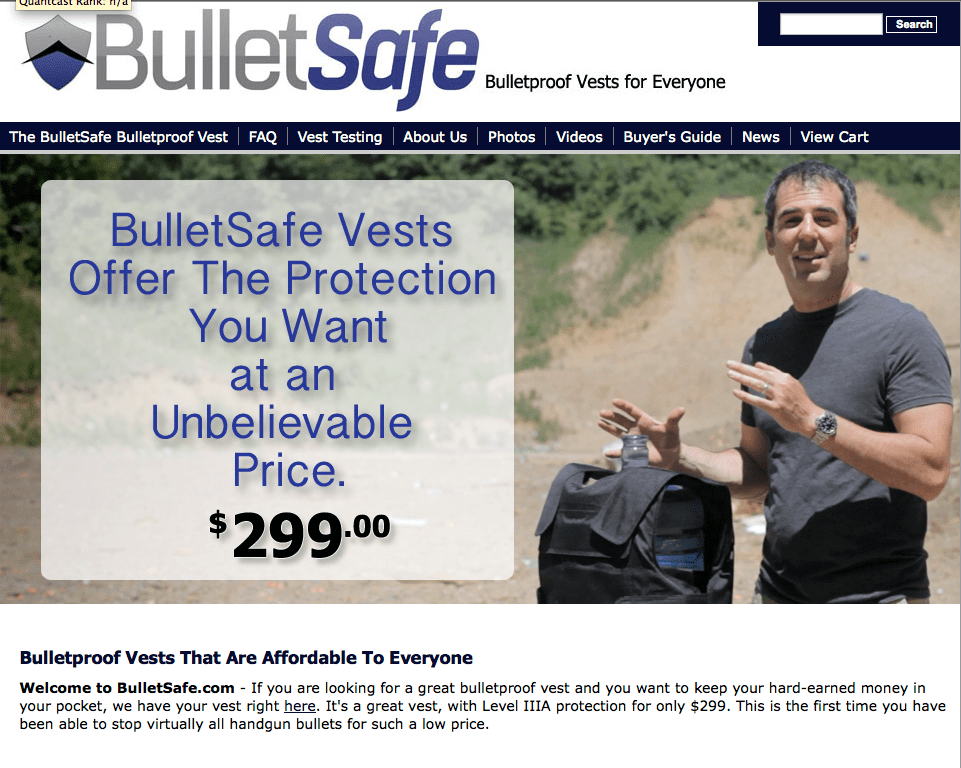 BulletSafe Acquires The Domain Name BulletproofVest.com - Aug. 12, 2013
Troy, MI – BulletSafe, home of the $299 Level IIIA Bullet Proof Vest, is pleased to announce that they have acquired BulletproofVest.com. BulletSafe purchased BulletProofVest.com for $7,500 from a domain name investor.
Businesses buy premium domain names because a name like BulletProofVest.com allows companies like BulletSafe to reach more customers. People continue to type in domain names when interested in a particular topic. Owning a premium name captures this audience and also prevents competitors from getting to customers first. Type-in traffic to the BulletProofVest.com site is currently being directed to BulletSafe.com a company that offers revolutionarily priced bulletproof vest.
BulletSafe is owned by PriveCo, Inc. In the past, PriveCo has purchased premium domain names for up to $1,000,000. PriveCo has run internet web stores since 1998, and understands the importance of simple, recognizable, and easily-searchable domain names. The acquisition of BulletProofVest.com is just one more thing that establishes BulletSafe as a reputable player in the defensive protection industry.
Before the purchase, BulletProofVest.com was an informational site that compared different types of bullet proof vests on the market. The information was a bit out of date. Back when it was written, the least expensive IIIA Bullet Proof Vest on the market was $649. Now you can get the same protection for $299 at BulletSafe.com.
BulletSafe is currently tracking the number of people who type in BulletProofVest.com every day. In the future, they could create a website at the domain name that offers more information about how their vest compares to others. For now, it redirects directly to the page of their best selling product.
What is the value of these type-in visitors? Advertisers appear to be paying from $0.50-$1.00 per visitor for bulletproof vest related terms. Buying the BulletproofVest.com name buys people interested in this product forevermore. For example, if ten people per day type in the name BulletproofVest.com, totaling 3,650 visitors per year, that would be worth approximately $2700 each year.
Online retailers and manufacturers have a history of buying multiple domain names to boost visibility and sales. Domains such as BulletProofVests.com and BodyArmor.com are owned by manufacturers of more expensive protective gear. "After customers visit our site and find that they can buy a great bulletproof vest for $299, I'm pretty sure they will come back. By offering a great vest at a low price we are making bulletproof vests accessible to everyone." said Tom Nardone, President of BulletSafe.
BulletSafe.com is operated by PriveCo Inc. PriveCo has privately delivered over 800,000 packages to customers everywhere. Tom Nardone, President of PriveCo, is available for questions or conversations at 1-800-809-0610.