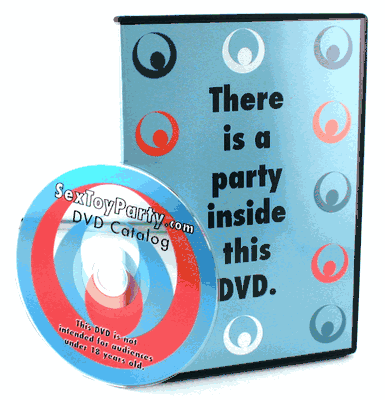 Betting Everything To Invent A New Way To Shop - March 2nd, 2005
Would you risk your company's future by creating a completely new way to shop? Would you forgo the traditional form of catalog to produce an expensive DVD-based catalog and then expect your customers to watch it? We are. We are going "All In" to change the way women and couples shop for sensual products.

Our wager is an educated one. We started by examining the burgeoning home sex toy party market. While sales are booming, all is not rosy in this industry. It seems that the largely untrained sales force is the weakest link. Our market research shows the customer just doesn't like them. 41% of people say that they would prefer to have a self-run sex toy party in place of one run by a saleswoman. We are going to meet this need for more privacy with our newest effort, SexToyParty.com.

Offering private ways to shop is our specialty. Over 250,000 people have shopped in our private environments. Our ShopInPrivate.com site is one of the Internet's most successful drug stores and our Bachelorette.com site is the largest retailer of bachelorette party items. These businesses have succeeded by offering customers the most private way to purchase items that they would rather not buy in public. The SexToyParty.com DVD catalog continues our work.

We aren't the only believers in this idea. Not only does our board of advisors like the idea, but our customers are eager to get the catalog as well. Over 250 customers have signed up for an advanced copy.

This venture isn't without risk. Expecting your customer to watch a catalog for 32 minutes is something new. Fortunately, we understand what motivates these customers. "They will watch our catalog to answer questions they may have but would be embarrassed to ask." Said Tom Nardone, President of Isdera Corp. The catalog is informative, entertaining, and fun. Imagine a Dr. Ruth hour on QVC and you begin to get the picture. "It is a liberating technology. Being able to comfortably watch and learn how these items can improve your relationships is incredibly valuable." He said.

Still, the investment was painful to make. "We have spent almost our entire profit from 2004 on this project." Says Nardone. The company put $20,000 into a small video studio, another twenty into added manpower to get the DVD shot and edited and ten thousand dollars for the domain name SexToyParty.com.

Even though no DVDs have shipped yet, the project is already starting to pay back. Clips of the catalog have been put online and are being watched over 100 times per day. The domain name SexToyParty.com was a good purchase and online sales are increasing steadily. February sales were three thousand dollars.

Whether the venture succeeds is still unknown. "Until we analyze how customers respond we won't know if we have a success or not, but based upon the product that we have created the team is very proud. We have our fingers crossed." Says Nardone.

Nardone does give some advice for people who may be wondering if a DVD-catalog is in their company's future. He suggests that you look at whether a print catalog explains your products well. Print catalogs of sex toys have never been able to describe the products adequately. Be warned though, your customer probably won't want to watch the whole thing unless it is fun, focused, and fast paced.