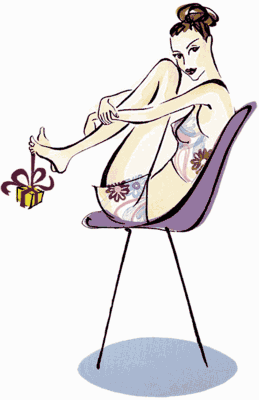 At RomanticGifts.com the people have spoken and they seem to be talking dirty! - February 1st, 2007
The people have spoken and they seem to be talking dirty! Romanticgifts.com offers a large selection of gifts, ranging from sweet to steamy. This year enthusiastic customers are snapping up all of the naughtiest gifts.
What is driving these sales? Perhaps it is the ability to buy items in complete privacy? Maybe RomanticGifts.com is just picking up the slack because mall-stores cannot offer these items? Regardless, the site has become an excellent resource for customers who want to celebrate the physical side of their relationship.
RomanticGifts.com hasn't always offered such a sinful selection. The site began in 1995 and until last year offered mainly customized poetry and gold-dipped flowers. Those choices were never successful. In June of 2006 the site was purchased by PriveCo - The World's Most Private Company. Business has been brisk ever since.
Tom Nardone, President of PriveCo says "Rather than tell people what we thought was romantic, we respond to what customers search for on the site. If a large number of visitors come to a website called RomanticGifts.com and request personal lubricant, we are happy to offer it, even if that type of item doesn't seem romantic to others. We let partners decide what is romantic to them." This focus on the customer and her wants and needs has caused sales to increase 1,500% in the past 8 months.

If you would like to see what is selling well at RomanticGifts.com, visit the website. Included on the site is an automatically update page that shows the ten best selling items over the past 30 days. The choices may surprise you. Here is a link to the 10 best selling items at RomanticGifts.com. See for yourself.

About RomanticGifts.com
Since 1995 RomanticGifts.com has catered to the needs of lovers worldwide. In 2006 RomanticGifts.com found new owners and a new outlook. The gifts became more passionate and purchases became much more private.

Tom Nardone the President of PriveCo and RomanticGifts.com is available for questions, comments or conversations at 1-800-809-0610. He is a fun, experienced interviewee who can provide print-quality photographs, sample products and maybe even a funny story or two.