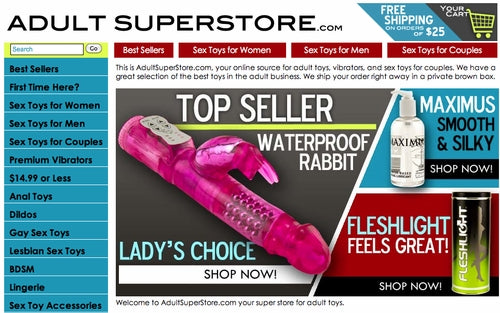 Adult Superstore - A Super Store To Buy Adult Toys
AdultSuperstore.com
 is an online destination for buyers of adult items ranging from sex toys to lingerie. AdultSuperstore.com, formerly a drop-ship shopping site, has been relaunched by PriveCo, a multi-site operator and owner of Vibrators.com and Bachelorette.com.
AdultSuperstore.com now sells a variety of adult products with a focus on offering the lowest possible prices. AdultSuperstore.com has a limited advertising budget, but turns that decreased expenditure into aggressive prices. The site includes sex toys for women, men and couples, sex toy accessories, lubricants, condoms, sexual enhancement products, and lingerie.
PriveCo calls itself the "World's Most Private Company" because of its pledges to actively protect customer privacy during the ordering and shipping processes. In addition to AdultSuperstore.com, PriveCo owns and operates the successful online sites
ShopInPrivate.com
,
Vibrators.com
,
Bachelorette.com
, and many others.
The company's experience in adult product segments allows it to offer quality items at every price point through AdultSuperstore.com. According to Nardone, "Someone buying a sex toy for the first time may be looking for a lower price than an experienced buyer who knows the features she wants. We can accommodate both bargain shoppers and high-end consumers."
Despite owning other sites in the adult and sex toy markets, PriveCo has relaunched AdultSuperstore.com as a unique online location with its own content and design.
"Visiting AdultSuperstore.com is like walking into a clean, friendly store where you can get all the information you need, and then order without dealing with clerks and other customers," Nardone said. "It's as professional as our other sites, without looking anything like them."
Although "Adult Superstore" is a common name for brick-and-mortar retailers around the U.S. that carry adult products, AdultSuperstore.com has no physical counterpart.
According to Nardone, "Many people see an Adult Superstore in big city or a rural location and wonder what they sell. They are curious but reluctant to go see for themselves. AdultSuperstore.com makes it easy for them to browse the products, get familiar with our offerings, and then place an order without embarrassment."
Helping customers avoid embarrassment has been a PriveCo trademark since the company was established almost 15 years ago. The company allows customers to order products without receiving any emails, and it ships products in nondescript brown boxes that never mention the name of the website. Customer information is never sold or traded.
Instead of using a drop-ship model, where an online site simply directs the sale to a retailer for fulfillment, PriveCo operates its own warehouse, where all the products it sells are stocked and shipped out. Drop shippers typically lack strong privacy practices, whereas PriveCo is dedicated to  privacy..
PriveCo also provides telephone ordering and customer service, a business practice practically unknown among online adult product retailers. Nardone said. "If there's a question about an order, we can resolve it right over the phone."