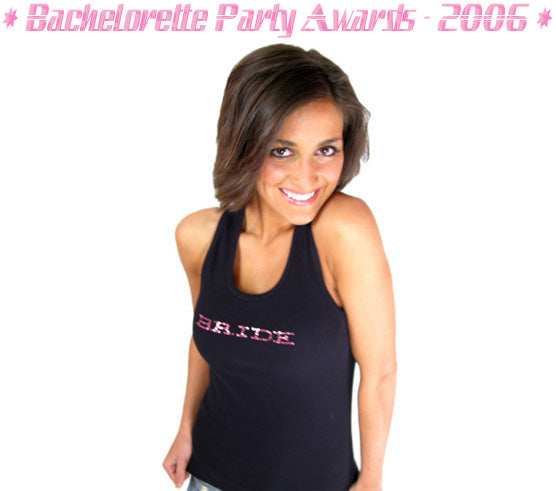 2006 Bachelorette Party Awards - Sept. 26th, 2006
To celebrate the success of the 2006 bachelorette party season, the Internet's largest retailer of bachelorette merchandise, Bachelorette.com, gives awards to the best products. Awards are given based on sales and customer feedback. The manufacturers of these bestselling items receive trophies commending them for their top-quality innovations. This years awards as well as awards from the inaugural bachelorette party awards are published at
BachelorettePartyAwards.com
.
One trophy is slightly larger than the rest. It is given for the single best product of the year. This year that trophy has been awarded to Classy Bride for their line of
bachelorette, bride, bridesmaid and maid of honor sequin tank tops
. These glittering bachelorette party tanks add a touch of flair with a price-point that is fair. They are our hands-down favorite Bachelorette Party Item of The Year.
In the category of Best Bachelorette Party Game, Mad Libs take the prize. Mad Libs are a classic party game that has adapted very well to bachelorette parties. In their
Bachelorette Bash Mad Libs
, the folks at Price Stern Sloan have hit a homerun.
Rainbow Party Pecker Straws win the award for best bachelorette party drink item. These vibrant and sassy straws are a big hit. Other straws just don't catch your eye the way that this rainbow of colors does. This is HOTT Product's second award in two years. HOTT also won this same category last year by providing drink bottles in vibrant colors.
Many bachelorettes choose some form of fun attire to wear during the bachelorette party. Usually a veil or tiara is part of their ensemble. This year, brides looking to dress-down at the bachelorette party got a boost. The Cowgirl Hat and Veil was introduced and is our choice for Bachelorette Party Attire of the Year. This curled-up cutie-pie of a cowgirl hat will look great at a bridal shower, bachelorette party or even during the honeymoon.
The Cowgirl Hat and Veil
were invented for Bachelorette.com by Windward Gifts.
"At
Bachelorette.com
, we try to find the best of the best and it feels great to reward the people responsible for these products with a special honor." said the company's President Tom Nardone. Mr. Nardone is available for questions, comments or conversations at 1-800-809-0610.